This entire week I have been reliving Wicked the musical and listening to the soundtrack. Because of this I decided to rewatch the 1939 Wizard of Oz staring Judy Garland. Like the first time I watched it, I loved it. But there's always a difference when watching a movie when you're older...over the years there have been rumors and stories about a munchkin who committed suicide while the movie was being filmed. And so when I rewatched the movie, I kept an eye out for this scene: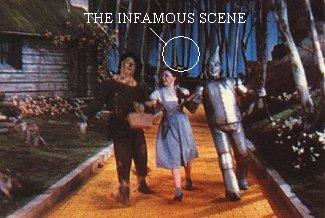 Yes, its creepy, you can see the body sway in the background, but this myth was debunked
Something else I was thinking about while watching the movie was - how many munchkins were there??? According to Answers.com. there 124 adults and 12 children who played munchkins in the movie. Most of these munchkins came from the
Singer Midgets
.
There was actually an article I read back in September announcing the upcoming December auction for Dorothy's Ruby Slippers! "
We're guessing that the Wizard of Oz himself may not have enough dough to bid on Dorothy's infamous ruby slippers. This December, the one-and-only red glitter shoes from 1939's
The Wizard of Oz
will go up for auction. (Not to be confused with Miu Miu glitter booties, but those may cost you a pretty penny, as well.) Believed to have been worn by Judy Garland herself, the shoes are up for grabs as of December 16, as part of a Hollywood Memorabilia sale. The pair was found by a costume-department worker on the MGM lot in the early 1970's, and in primo-vintage condition to boot. You might need more than a Christmas bonus to afford this piece of cinematic fashion history, as they are expected to fetch between $2 and $3 million. No, you're not in Kansas anymore, Dorothy. " Refinery29
Something else I stumbled upon when I was looking for the myth video was this cute dog interpretation of the movie!!! Must watch - super adorbs!!
Anyways, although I love this movie, I loved the musical Wicked 10x more. It is a must see and is actually in LA this season. One day, I will see it again and actually purchase a recording of the show!!
Defying Gravity Tony Awards